Rejuvenate your skin safely
Silk delivers natural cell regeneration.
Powered by the latest Regenerative Medical research, Silk helps the cells damaged during hair removal to care for themselves.
When treated with Silk, the generic stem cells at the bulb of the hair root are encouraged to mimic the surrounding skin cells and transform into silky smooth skin.
Hydrated, they can repair themselves and naturally regenerate into skin cells. They retain this cellular memory, so the majority of unwanted hair disappears to be replaced by soft, healthy skin.
Silk is a natural post-epilatory treatment that enhances the results of your hair removal.
For use on your legs, armpits, body and face.
Suitable for all skin types.

How effective is Silk?
Study results
Extracts from a clinical study undertaken by an independent French toxicology and clinical pharmacology laboratory.
Test Protocol: Evaluation study on the skin tolerance, effectiveness and acceptability of a hair growth inhibiting treatment undertaken on 24 female volunteers aged between 18-58 years. Silk and a placebo were applied twice daily for three months, with the amount of hair (counting unwanted hairs on a large area) and a final measurement by questionnaire.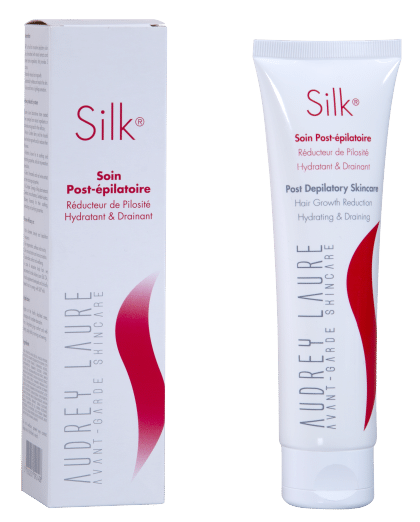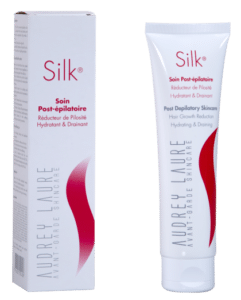 The number of unwanted hairs per cm² after 42 days
had decreased for all of the women using Silk
0
by an average of around 50% after six weeks of use
0
However, there was less of a difference within the placebo group
0
Extract from a study undertaken by an independent French centre for clinical studies on the safety and effectiveness of cosmetic products (200 women tested):
Reduction in the amount of hair
% of subjects who saw a reduction in their unwanted hair
% of women observed their hairs were finer
% of subjects who saw a slower regrowth of hair
% of women said their skin felt more hydrated